Description
They're Out Of This World!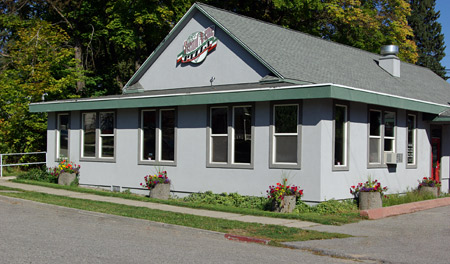 Try the piled-high specialty pizzas that are served at 215 S. Second Avenue. They're loaded with fresh ingredients. Take for instance the Juke Box Special, which weighs a monstrous 7 pounds – now that's not your average pizza! We also serve excellent calzones, salads and sandwiches. Also available is our delicious garlic bread appetizer, an excellent hand-tossed pizza covered with cheese and garlic, served with pizza sauce. We also have a great selection of domestic and micro brewed beers. Here are a few of our other specialty pizzas:
The SCHWEITZER SKI FLAKE
• Spinach • Tomatoes • Feta cheese • Garlic • Mushrooms • Black olives • Asiago cheese
The CAROLYN SPECIAL
• Spinach • Olives • Mushrooms • Garlic • Canadian bacon • Pesto sauce • Artichoke hearts • Fresh tomatoes
The MEXICAN
• Bean sauce Onions • Olives • Beef • Lettuce • Tomatoes • Salsa • Pepperoncini peppers • Cheddar cheese
And that's just a sample of our terrific handcrafted pizza pies – not to be confused with those mass-produced pizzas from the franchise joints. For authentic and unique pizza, we hope you'll visit!
We Deliver!!
5:30 p.m. – 10:00 p.m.
Call for delivery • 208-263-9321
Business Hours
Monday-Thursday 11:00 a.m. -9:30 p.m.
Friday 11:00 a.m. – 10:00 p.m.
Saturday 3:00 p.m. – 10:00 p.m. Sunday 3:00 pm – 9:30 p.m.